Dogs are the most loved pet by the human in the world. As a dog lover, you want your dog to get the proper food providing ample nutrition and calories. There are many national and international brands providing dog food in India. There are many popular and trusted brands including Royal Canin, Pedigree, and Orijen. Those are satisfying their customers for many years. Here we will give you a guide about the best dog food in India.
If you have a pet in your house, it's your responsibility to feed them nutritional food so that they don't get sick and remain active. In India, foreign breeds are very popular. So, foreign breeds need much care as compare to the native Indian breed. Many Indians feed their dogs their leftover that is mostly spicy food. This is not necessarily prohibited but you must keep in mind that dogs' digestive systems are different from the human digestive system. So, care should be taken before feeding them the leftover.
The dog is the best friend of humans. They love their owners more than themselves and their proper diet is their owners' responsibility. So, selecting and knowing which food is ideal for your dog. Just keep reading the article below we have gathered all the information for you. After reading this article it will be easy for you to select the food for your lovely canines and reward them with different treats.
Best dog food in India:
Many questions arise while deciding the dog brand for your dogs. Deciding the best for your canine is a bit difficult. Here are the few top-notch dog food brands in India with all the essential information you must know before buying food for your canine.
1.Orijen Original dog food: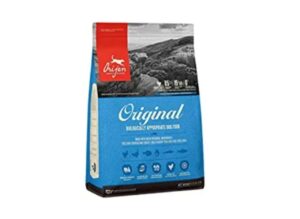 Orijen is among the top most popular dog food brands that have also entered the Indian dog food market. Their dog food is famous as they contain 100% fresh meat ingredients and a high quantity of protein as compared to other brands present in the market. Let me tell you the best thing about their dog food that their food range is for every kind of breed of any age or size. No doubt they are the best dog food brand in India offering top variants include,
Orijen dry puppy food
Orijen original dry puppy food
Orijen senior dry dog food
Orijen 6 fish for foods
Pros
The range is grain-free and rich in proteins.
Maintain good taste that the dog loves.
Premium quality ingredients are used.
2.Royal Canin: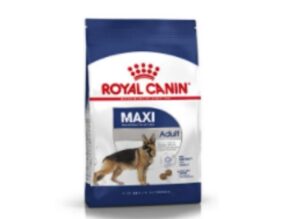 Royal Canin is amongst the most popular dog food in India. They offer a variety of dog food items according to the breed. They are the oldest dog food brand and easily available in the Indian dog food market. They are more famous for the puppies' food.
Once you feed your puppies Royal Canin food you will never complain about their laziness as their product is not only enriched in nutrition but contain an ample amount of antioxidants for healthy growth. Their product contains dehydrated poultry proteins, animal fats, maize, and maize flour, etc. Let me tell you the best thing about their food is that it contains rice as the main ingredient and their food is readily available online.
Pros
The product contains all the essential nutrients to improve the digestive system.
The dog food formula fulfills the energy requirement of the puppies.
The food product is popular among many pet owners.
Cons
Some complain that their product contains less moisture.
It may contain many by-products.
3.Pedigree dog food product: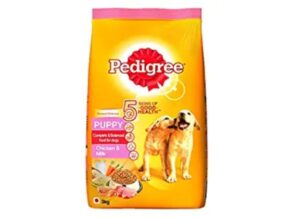 Pedigree is not only a popular food brand in India but also in many other countries providing their customers with all the nutrition for their pets. They are offering various dog food ranges for many adult dogs. Their food contains approximately 20% protein and up to 5% crude fiber.
Their dog food product may not contain high carbs and low proteins and low fiber. Their products may contain a wide variety of by-products which's why it is not recommended by many pet owners. If your adult dog has a digestion problem then pedigree is the best option for you as it includes all the minerals and vitamins.
Pros
It contains all the balance ingredients in dog food.
They are providing various serving size packs.
Their products are low cost.
.
Cons
Some people dislike it because of the limited information on the ingredient list.
4.Farmina grain-free dog food: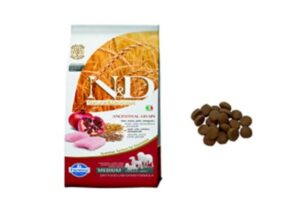 Farmina is the most trusted brand in India. You can rely upon their nutritional dog food ranges for your canines in India. Thus, provide a balanced amount of protein, fats, and fibers for the canines. Farmina is popular for its grain-free ranges. The best part is that you can get their all ranges online and everywhere easily in India. We have seen many pet owners happy feeding a mixture of homemade and Farmina grain-free dogs to their canines in India.
Pros
Provide variant products at reasonable prices.
Maintain your canine weight
Providing different flavors of food
.
Cons
It may not suit the digestive system of every breed.
5.Drools focus: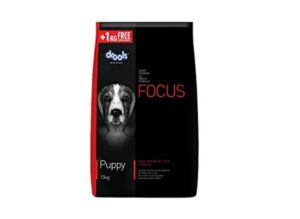 Drools is one of the Indian brands that focus on the preparation of dog food free from grains. This is one of the brands in India preparing dog foods with premium quality ingredients. Their formula includes a high quantity of protein sourced from chicken and dried eggs. However, this brand product is highly recommended by different pet owners. But we recommend not switching directly to any other product. Instead, frequently introduce your dog to different formulas and brand dog food products.
They have launched different variants of food to treat your canines including,
Drools Chicken and Egg Adult Dog Food
Drools Focus Adult Super Dog Food
Drools Optimum Performance Adult Dog Food
Drools Ultium Performance Puppy Dog Food
Pros
Premium quality ingredients are used.
High-quality proteins are used.
Offering different variants
Cons
Ingredients are not displayed clearly.
6.Meet up dog food:
Meet up dog food is rated 4 out of 5 according to different pet owner reviews. Their food is one of the best dog food in the Indian market as it contains all the essential nutrients required for dog food. Their food contains an exact balance of carbohydrates and proteins. If you are looking for healthy and tasty snacks for your canine then Meet up dog food should be your first choice.
By their dog food range, you can reward your dog with a treat daily. The best part about their food ranges is that they are offering different food flavors but do not use added colors or flavors in dog food. Your canine will love having Meet up dog food ranges.
Pros
Offer different flavors in dog foods.
Keep the dogs healthy and active
Provide a complete and nutritional diet.
Cons
Sometimes it may cause digestion problems.
7.Arden Grange: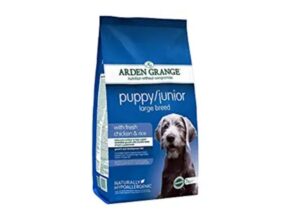 Arden Grange has been manufacturing dog food products since 1996. They claim to manufacture dog food products with premium quality ingredients and list all the allergens on the nutritional labeling if added. So, when you cannot compromise at any level of your dogs' nutrition or health then Arden Grange should be your first choice. This brand food product is recommended by many pet owners as they have formulated all the ranges in a perfect balance of proteins, vitamins, and minerals.
Pros
They offered naturally hypoallergenic food.
Offer balance nutrients.
Premium quality ingredients are used.
8.Chappi Dog food: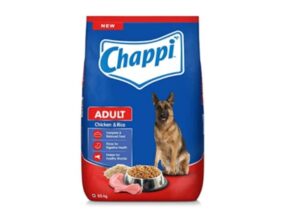 It is among the cheapest dog food brands in India. Their ingredient list includes both rice and meat in balance quantity. Their food is considered good for dogs facing diarrhea problems. Chappi contains corn as a by-product. Regular use of this food can obese your dog. But many pet owners give positive feedback on their products as they have good taste.
Pros
Low cost
It May contain mega 3 and 6.
Cons
The product contains by-products.
How to choose the best dog food in India:
Every brand claims to sell the best dog food in India. Here we will tell you the things you must keep in mind before buying dog food.
Check the Ingredient list: The ingredient list is the most important parameter to keep in mind before buying any food product for your canine. As ingredients are written in descending order and top five ingredients are usually making the whole dog food. Make sure to read all the ingredients listed in the beginning.
Meat content and meat-type used in the preparation of dogs' food: Always read the meat content in the food. As meat is the primary source of protein for your canines. Most dog foods contain around 75% fresh meat and 25% dry meat. Best dog foods also write the type of meat used in the making of the food. Always buy the food that mentions the type of meat used in the manufacturing. As many label them as meat byproducts which is suspicious. So, you must know the byproducts are usually the products that have to through away such as bones, skin, etc.
Calories Check: Some dog breeds are prone to obesity so before buying any food product for your dog always keep in mind your breed type and calorie requirement of your dog accordingly.
Allergens: Like humans, animals are also prone to various allergies. This is most common in dogs. Food products may contain ingredients that are allergic to dogs. So, always go through the ingredient list before finalizing any food brand product for your canine.
Age, Breed, and size: Age is an important parameter to keep in mind before buying your food. The nutritional requirement may vary from puppy to adult. Different dog breeds have different dietary needs. For example, Labradors are naturally more likely to get obese. So, it is advised to use food according to the dog breeds and their requirement.
Frequently Asked Questions:
Which is the best dog food in India?
Nowadays the best dog food brand in India is "Royal Canin". They are offering different variants of dog food products. They have different food ranges for every kind of breed regardless of age, and size. Different vets in India recommend feeding their dogs a mixture of homemade and Royal Canin.
What dog food we should avoid feeding our dogs?
After a lot of discussion with pet owners, we concluded that we should avoid feeding our dogs the food,
Containing a large number of spices or masalas may cause different stomach diseases.
Do not use food products containing food dyes, render fats or meat by-products, etc.
How often can we change our dog food?
This mainly depends upon the dog's food and breed. It may be challenging in the case of premium dog food. Once dogs have started consuming then it is recommended to concern a veterinarian. However, it is recommended to introduce new food frequently to the dogs.
How many times should I feed my dog in a day?
The answer to this question is very simple and obvious. Like human beings dogs also need varying levels of food in the day. So, regardless of the time at which you feed your dog. You must observe when the canine shows the sign of hunger and fullness and monitor them accordingly. This is the best way to decide when to feed them or not.
Read about dog breeds in India 2021 here.
Conclusion:
Dog food comes in different verities, nutritional compositions, and flavors in India. Different brands are offering various types of dog foods. So, buy according to your dog breed type, size, age, and health requirements. Here we have discussed all the top-notch dog food brands in India that are satisfying their customers for many years. After reading this article it will never be a difficult task for you to choose the dog food brand for your canine in India. If you find our article helpful and you want to share your opinion regarding the different dog food brands listed above then let us know, in the comment section below.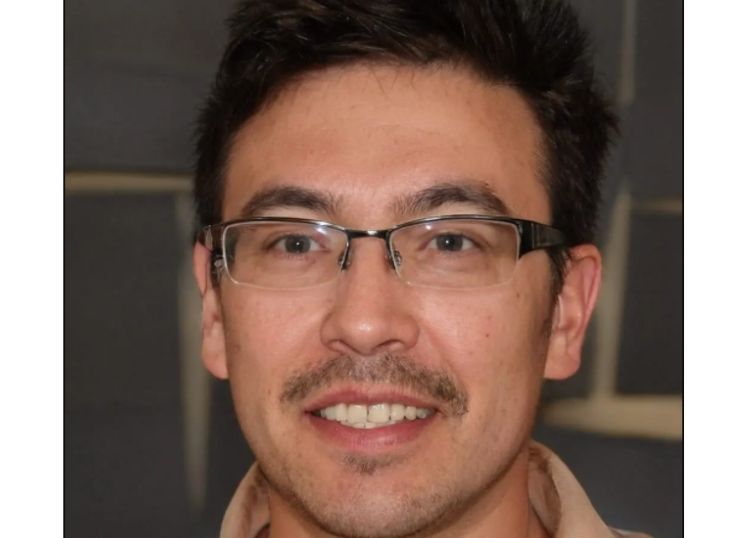 Albert James is a dog owner and veterinarian by profession. He loves to write about dogs. He can also provide you solutions about your dog's health.